The Charms of Japan: Kyoto Prefecture Recommendations
2022-06-10
Tourism & Entertainment
Kyoto is the former Imperial capital of Japan. It is famous for its sightseeing and cultural spots that include old shrines, temples, and castles. It is also known for its unique culture and delicious local food that attracts countless tourists, both Japanese and foreign.
From Tokyo, you can get to Kyoto in around 2 hours by shinkansen. Since there is plenty to see and experience all over Kyoto, you should definitely spend more than a day in the prefecture.
In this article, we'll introduce the charms of Kyoto Prefecture, from the food to sightseeing and nature spots.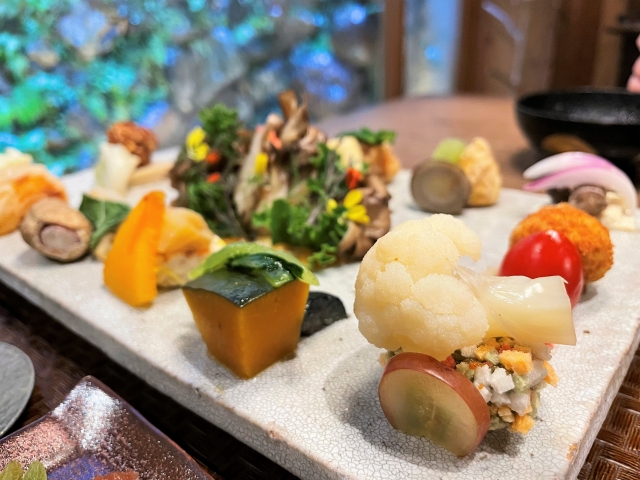 The Food of Kyoto
Kyoto is famous for its rich variety of local food. Here we introduce some Kyoto specialties that you should definitely try.
Kyo-Kaiseki
Kyo Kaiseki or Kyoto Kaiseki is the embodiment of "Washoku" or Japanese cuisine, which has been designated a UNESCO Intangible Cultural Heritage. Kaiseki refers to a multi-course meal of simple dishes that was traditionally served before tea ceremonies. The word "kaiseki" literally means "stones in the bosom" and is said to come from the practice by Buddhist monks of putting warm stones in their clothes to ward off hunger. Kyo Kaiseki is a particularly refined and artistic form of kaiseki, and can be enjoyed in many ryokans or traditional restaurants, though advance reservation is usually required.
Nishin Soba
Nishin soba is a dish of soba noodles in hot broth topped with nishin (herring). Central Kyoto is situated far from the ocean, so dried fish such as herring was a precious nutrition source. The herring used in nishin soba is simmered for several days to make it soft to the bones. Soba noodles known as "toshikoshi soba" are traditionally eaten during the New Year, but in Kyoto, nishin soba is the dish of choice.
Obanzai
Obanzai is a traditional cooking style that originated as home cuisine in Kyoto. It consists of several small dishes made with seasonal vegetables and other ingredients produced in Kyoto. Obanzai is a good choice if you want to enjoy Kyoto cuisine without the ostentation of kaiseki cuisine. Obanzai is not only delicious and healthy, it also lets you enjoy a variety of ingredients. There are some Kyoto restaurants that serve obanzai by letting you choose from big bowls of prepared dishes.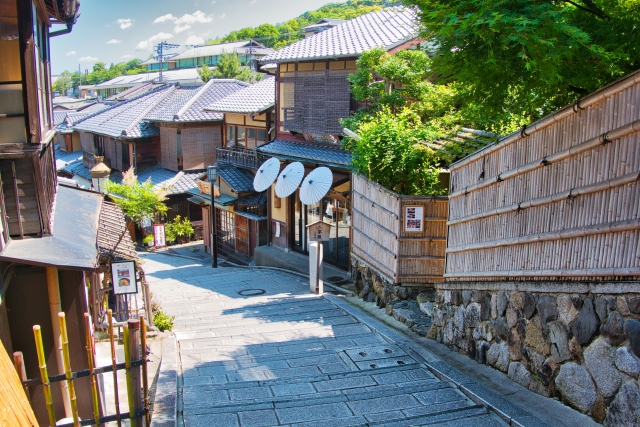 Sightseeing Spots in Kyoto
The following are some recommended sightseeing spots in Kyoto Prefecture.
Gion and Kiyomizu-dera Temple Area
Founded in 778, Kiyomizu-dera is one of the oldest and most famous Buddhist temples in Kyoto. Its highlight is the 13-meter high stage that juts out from the main hall. From the stage, you can look down and around to enjoy the beautiful seasonal scenery. The name Kiyomizu means "pure water", and comes from the Otowa Waterfall within the temple complex. The Sannenzaka Slope and other cobblestone streets that pass through the Kodaiji Temple and Yasaka Shrine are lined with traditional houses, souvenir shops, confectioneries, and other shops that sells Kyoto specialties. This area is a must-visit for first-timers to Kyoto.
Kinkakuji Temple / Uzumasa / Omuro Area
Kinkaku-ji is one of the most famous and popular temples in Kyoto. Its name means "Temple of the Golden Pavilion" and has an exterior covered in gold leaf. Its official name is Rokuon-ji, and it was built in the late 14th century by Ashikaga Yoshimitsu, the third shogun of the Ashikaga Shogunate.
Another famous temple in this area is Ryoan-ji, known for its beautiful "karesansui" Zen rock garden with white sand. It is unknown who designed the garden, and there have been many theories regarding the meaning and symbolism behind its elements.
Fushimi / Uji Area
Located a short distance from Kyoto City is the Fushimi and Uji area of Kyoto Prefecture. One famous spot here is the Fushimi Inari Shrine, the head shrine of all Inari shrines in Japan. It is known for the Senbon Torii, the picturesque rows of red torii gates leading the inner shrine. You can also go on a 4-kilometer pilgrimage hike that goes around Mt. Inari where the shrine is situated.
In Uji City, there is the famous Byodo-in Temple. Its highlight is the elegant Phoenix Hall that is depicted in the obverse side of the 10-yen coin. Other buildings in the temple complex include a Jodo-shiki garden and the Hoshokan museum that houses many National Treasures. Note that there is a limit to the number of people who can enter the Phoenix Hall at one time, so it's better to make an advance reservation.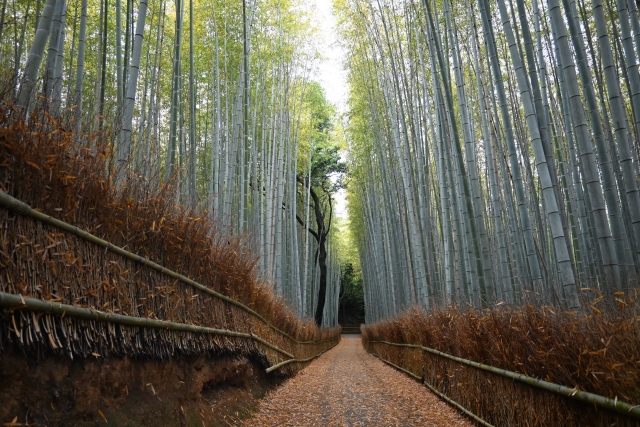 Nature Spots of Kyoto
Kyoto Prefecture is also home to some great nature. The following are some recommended nature spots in Kyoto.
Arashiyama Bamboo Grove
Located on the western outskirts of Kyoto City is Arashiyama, which is famous for the Arashiyama Bamboo Grove. It consists of a 200-meter long path that goes through a natural forest of bamboo. This picturesque place is popular all year, but it is especially beautiful in winter when the bamboos get covered in a layer of snow. In December, the path is lighted up at night, creating a magical atmosphere.
Togetsukyo Bridge
Another famous spot in the Arashiyama area is the 155-meter long Togetsukyo Bridge that crosses the Katsura River. It attracts countless tourists for its beautiful scenery during the cherry blossom season in spring and the colored foliage in autumn. The bridge is also lit up at night in December, creating a fantastic scene with the surrounding mountains.
Amanohashidate
Amanohashidate is a sandbar located in Miyazu Bay in northern Kyoto Prefecture. It is one of Japan's Three Most Scenic Views. The white sandbar is covered with about 6,699 pine trees. Amanohdashidate means "bridge to the heavens". One famous custom known as "matanozoki" is to bend down to see the scenery through your legs, so you can see it upside down as if the bridge is leading to the sky. According to legend, the god Izanagi used Amanohashidate as a ladder from heaven to visit the goddess Izanami on earth. Another spot to see near the area is the Kaisenkyo rotating bridge.
Summary
In this article, we featured some of the charms of Kyoto Prefecture. Kyoto is the cultural capital of Japan, and is a place of delicious food, magnificent sightseeing spots, and great nature.  Kyoto offers plenty to see and enjoy whatever the season. It is definitely worth visiting to find new discoveries about Japan's past and present beauty.