Best in Japan
For Foreign Owners
Real Estate Sale Service
Foreign investors

Sale of investment property

Residential property holders

Sale of residential property

Overseas corporate entities

Acquire Japanese real estate
Sale support for overseas corporate entities
For sale of Japanese real estate
leave it to "wagaya Japan"
6 Advantages of
Selling Real Estate with
wagaya Japan
A place for prospective buyers
to gather from around the world
wagaya Japan's site has 150,000 visitors every month. We are perfectly placed to promote your property to prospective buyers from all over the world.
We possess the know-how to 『sell high and sell fast』
We can recommend you on exterior repair, interior renovation, adding value to your property, and selling higher. Also, if you are looking to immediately sell, our agency can also buy directly.
Online consultations・contract signing
from overseas is easy and convenient
Foreign owners not living in Japan can have online consultations from the comfort of their home or office. It's a convenient one-stop shop contracting service.
Our multinational staff
can provide multilingual support
You can communicate smoothly with our staff from America, China, Taiwan, and Vietnam
We have properties nationwide in Japan
wagaya Japan has a Japanese nationwide real estate network. Feel free to consult with us about the sale of properties even outside Tokyo or Osaka
Network with various specialists
We have established a network with various specialists who are familiar with real estate transactions for overseas owners. We also provide thorough support for complex sale procedures in Japan, including tax accountants, judicial scriveners, and financial institutions.
To Real Estate Companies and Institutional Investors
Looking for buy/sell partners with wagaya
A one of a kind real estate buy/sell network service in Japan 「connecting Japan to the rest of the world」.
Property listing service ・ Limited private property distribution service

You can list and promote your properties for sale to the 150,000 monthly users who visit wagaya Japan. We also offer a service that allows you to promote your property to wagaya members only as a private property.

wagaya buy/sell brokerage service

wagaya Japan will act as a brokerage to sell your property or owner property. We can attract prospective buyers from all over the world by utilizing our multilingual capabilities.
We also provide consultation and collaboration for various other businesses such as real estate development and rental management services for foreigners. Please feel free to contact us.
For first-time owners
Two ways to sell your Japanese real estate
At wagaya Japan, we are committed to maximizing the profit of our owners. Depending on the condition of the property and the owner's intentions, we offer two methods of sale and a comparison of the two methods. (Purchase and brokerage)
As another option, we can also propose leasing, in which you continue to hold the property and earn a steady monthly rental income.
Direct purchase
wagaya Japan will directly purchase the property
Recommended for older properties that are expensive to renovate or those who want to immediately sell their property

Disadvantages
Compared to a brokerage, depending on the case, the sale price may be lower
Depending on the real estate, direct purchase may not be feasible
Brokerage
wagaya Japan acts as an intermediary between the buyer and the seller
When selling through an intermediary, it is recommended for owners who are not in a rush to sell and want to take their time to get a higher price. It is easier to sell a property if the building is in good condition.

Advantages
wagaya Japan acts as an intermediary between the buyer and the seller
You can hear different opinions of various buyers
Disadvantages
Compared to direct purchase, the sale tends to take more time
A brokerage fee is required
※What is a brokerage fee?
Prospective buyers will often come to visit the property (this can be tough on owners who still occupy their property)
Lease
Another option is to rent out your property.
This will provide you with a steady rental income.
If you are interested in this option, please contact us for a free rent appraisal.
Flow of Real Estate Sales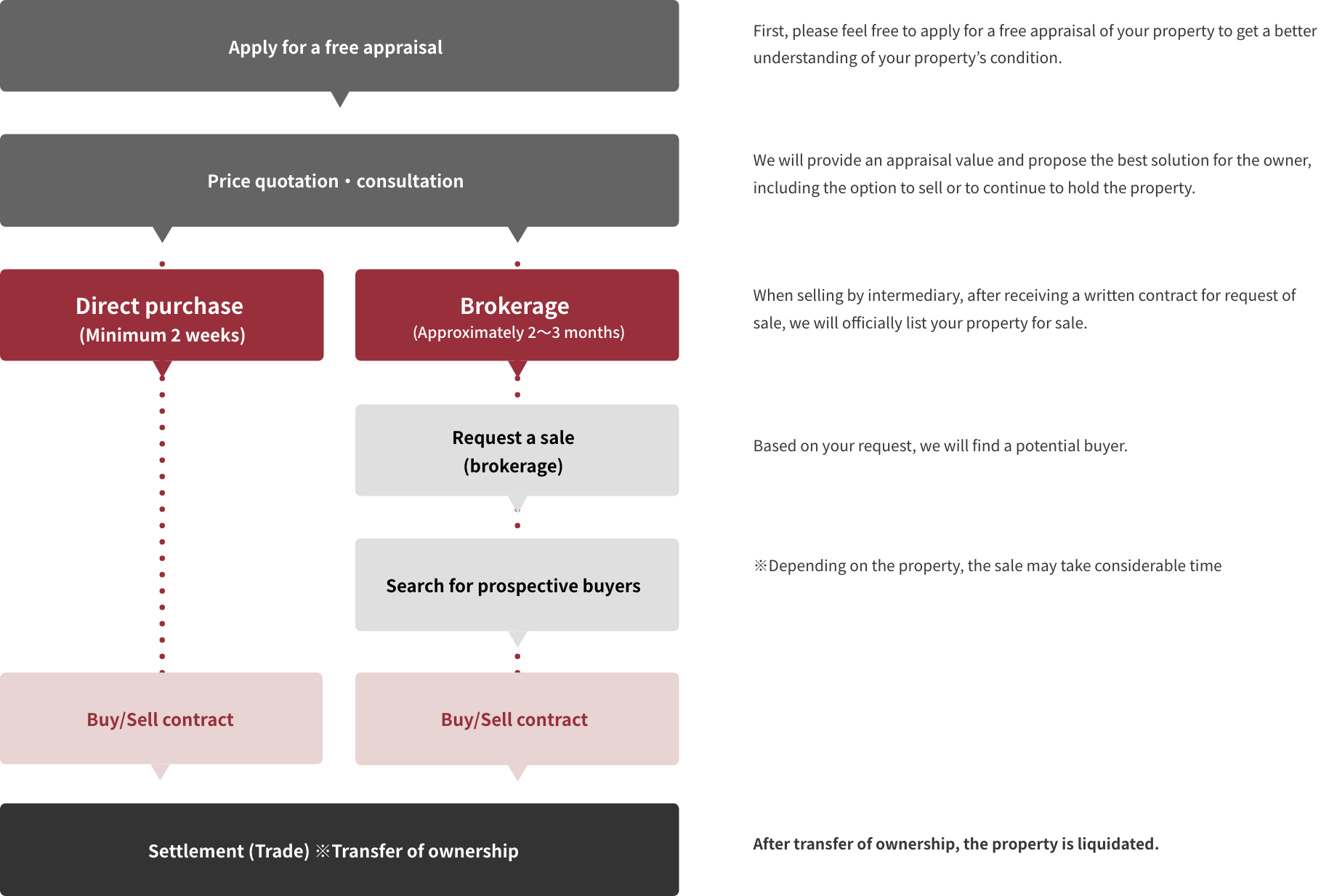 Items to prepare for sale
※If you currently reside in Japan
・Photo ID (driver's license/passport)
・Residence certificate
・Property title or registration information
・Certified property registration
・Inkan
・Inkan registration
・Property tax notice
・For stand-alone homes, land survey map and boundary confirmation document
・For condos, building management regulations and maintenance fee documents
※If you currently reside overseas
If you don't have an inkan, in order to sign the contract, the following documents are required
・Registered signature
・Affidavit
Details here
Brokerage fee

When a contract is concluded in a sales brokerage, the contingency fee paid to the real estate company is a "brokerage fee."
For example, if the sale price of the property is 20 million yen, a maximum of 726,000 yen will be paid as a brokerage fee.
(If the property is purchased by wagaya Japan, no brokerage fee will be charged.)

Stamp duty

This tax is levied on sales contracts when selling real estate. The tax is paid by affixing a stamp corresponding to the sale price. For example, if the sale price is 10 million yen to 50 million yen or less, the stamp tax is 10,000 yen.

Cost of mortgage cancellation registration

This is the cost of a procedure called "mortgage cancellation registration," which removes real estate as collateral when a loan (e.g., mortgage) from a financial institution is paid off.

Early mortgage repayment expenses

This is the fee charged to the financial institution for repaying the remaining loan balance in a lump sum.

Acquisition tax / residence tax

Transfer acquisition tax is the general term for taxes levied on profits from the sale of real estate, specifically "acquisition tax" and "residence tax."
※ Note, if you receive a loan from a financial institution, separate loan commission fees are required.
Frequently Asked Questions
Q1

Can I inquire about a sale even if I am Japanese?

Yes, of course. Our agency has a special department geared towards Japanese owners, and we consult with many Japanese clients.

Q2

Are all your properties just houses and apartments?

We have not only houses and apartments, but also billions of commercial real estate and land. We handle a wide variety of real estate, so please don't hesitate to contact us.

Q3

If I am forced to cancel my sale, will a brokerage fee or other fees be billed?

A brokerage fee is only billed if the transaction is completed. And any other related fees will not be charged in the event of a cancellation.

Q4

If the appraised value does not match my desired sale price, which should I defer to?

The appraised value is calculated using past transcational data and neighboring property market values. Selling at the appraised value is not a must. Please consult with your agent.

Q5

When is the best time to sell real estate?

In Japan, residential properties are generally easier to sell around March and September, when many people are transferring for work or starting school. However, at the same time, there is a lot of price competition as well. That's why it's important to price accordingly, and rely on a real estate agency to promote your property with added value.
Satisfied Customer Comments
I never thought it could go so smoothly.

It was my first time selling property in Japan, and I had the impression that it would take a considerable amount of time. However, after I put in a request with the agency, we were able to quickly decide on a buyer, complete the contract paperwork, and close the deal.

I was even able to sell at higher than my initial price, so I was more than satisfied with their service.

Being able to communicate with native English staff was a load off my mind.

A lot of Japanese real estate agencies don't have multilingual support, and honestly communication can be quite stressful.

I'm grateful for being able to accurately communicate my requirements in my native language. I could leave the sale of my property in their hands with peace of mind.

I was able to complete my sale doing everything online from my own country

Being difficult to travel to Japan under the current circumstances, it was convenient to utilize Zoom meetings and a special property owner's chat tool to communicate.

I learned that being able to complete a sale without going to Japan, the country has overcome a major hurdle in real estate investment.
about wagaya Japan's Operating Company Nihon Agent
Company Name

Nihon Agent, Inc.
Founded

January 1981
Capital

10,000,000 yen
CEO

Haruki Noma
Location

(Head Office) 1-2 Minatomachi, Matsuyama-shi, Ehime-ken

(Tokyo Office) (PPY_07) Shin Yurakucho Building 11F, 1-12-1 Yurakucho, Chiyoda-ku, Tokyo
Our Business

Real Estate Purchase and Sale, Rental, and Management

Renovation, Real Estate Franchise Business

Operating a Foreigner-Focused Real Estate Information Website
Office

Yurakucho Office

Shinagawa Office

Satellite Office

Shibuya Nanpeidai

Shibuya Flax

Aoyama

Ebisu

Meguro

Roppongi

Shinagwa

Shinbashi

Tokyo

Marunouchi

Kanda

Nihonbashi

Shinjuku

Takeshiba