wagaya Corporate Housing Service
look for corporate housing or a welfare program for free!
Japan's top tier

apartment search service for foreigners

If you have any trouble during your tenancy,
we provide 24 hour support in multiple languages

First in history
A nationwide real estate network for foreigners
The wagaya Corporate Housing Service process flow
You can request a nationwide property search for free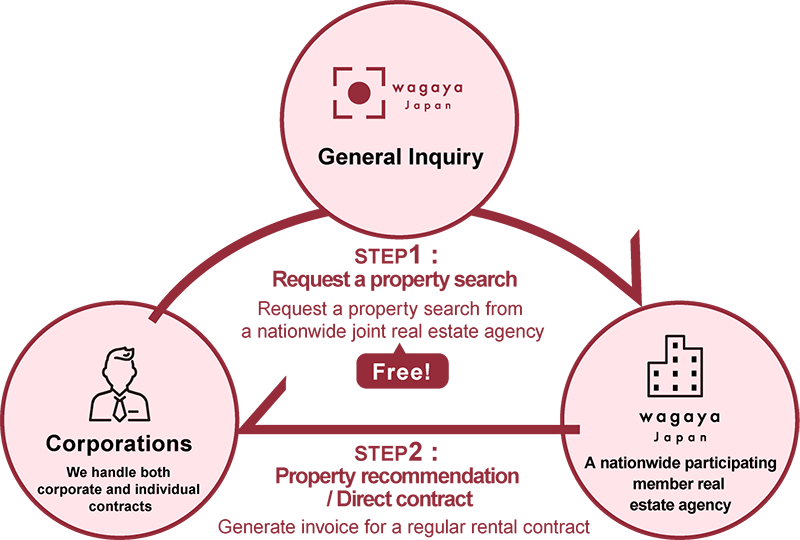 wagaya Support Pack
All the nitty gritty paperwork is handled by the Corporate Housing Representative
(※Please inquire about fees.)

Leave everything to wagaya Japan!
We also handle sublease contracts

We handle/resolve issues during your tenancy

We handle your monthly rental payments

Rental Payments

Draft contract check

Check moving status from previous apartment/Calculate deposit

Conclusion of temporary rental contract / Contract payment
Do you have trouble finding apartments for foreign employees?
Improving the lives of foreign employees and exchange students (Improving work efficiency/Avoiding returning to your home country early)

Moving can be tough, from apartment hunting to signing a contract

For foreign employees/exchange students, we handle any issues during your tenancy, and calculate the deposit refund upon vacancy

You can leave the apartment hunting to the foreign employees, but if there's such a great service, you'll want to recommend it
For foreign employees, leave the apartment hunting to us
Tuhin Abner

No stress when there's service in multiple languages. Even if it's your first time in Japan, we'll take care of you


Supported languages: Japanese, Chinese, English

THI TRUC MAI NGUYEN

With the wagaya Support Pack, the Corporate Housing Representatives services are included in the contract

Supported languages: Japanese, Vietnamese

Chen Ping

wagaya call 24 is a multilingual support call center for during your tenancy!

Supported languages: Japanese, Chinese

Masahiro Kusanagi

With the wagaya Support Pack, the Corporate Housing Representatives services are included in the contract

Supported languages: Japanese, English
The first step is to receive a consultation
wagaya Japan's 6 strengths
service
We search for properties nationwide

Nationwide coverage means, from local town companies to national scale corporations, we receive all their support. wagaya Japan's nationwide network is only made up of real estate agencies that cater to foreigners. We at wagaya Japan are the go-to for general consultation, from apartment hunting progress management to tenancy, to vacancy, we support you every step of the way.

Support during your tenancy "wagaya call"

Charges apply

For problems during your tenancy (water leakage, broken appliances, noise, garbage, etc.) we are available 24 hours, 365 days a year, and in 10 languages

Lifeline (electricity, gas, water) utility startup support

When you're starting your life in Japan, the first stumbling block is Lifeline (electricity, gas, water) utility startup. Especially foreigners who can't read Japanese well, if you don't start the utilities, then the lights won't turn on, the shower is cold, etc. and that can be troublesome

"wagaya Support Pack": Foreign corporate housing rental service

Charges apply

For corporations employing multiple foreigners, our staff will handle the contracts, any issues during tenancy, and even the deposit reimbursement calculation upon vacating, for each and every employee. wagaya staff will take on all these tasks, and even aggregate the rent invoices, which is a significant advantage. Please inquire for details about this service plan.

wagaya Support Pack

Furniture and appliances rental service

Charges apply

Overseas, it's common to find fully furnished rental properties. Moreover, in the case of short term rentals, instead of buying furniture and appliances, renting is often more economical.

We also sell SIM cards for foreigners

Charges apply

It's often the case that when you land in Japan, it's difficult to contact someone. In Japan, in order to open a bank account, you need a contact number. Before you arrive in Japan, we can send you a SIM card, so that once you do arrive, you'll have no trouble contacting anyone.

About SIM Cards
Flow of Service
HOW TO
Access the request form

Send your apartment search criteria

Recommendations for available apartments

Apartment viewing

Application Procedure

Moving In
FAQ
QUESTIONS
Q1

Do I need a guarantor for a temporary rental contract?

You do not need a guarantor. We provide a guarantor-free service, as well as liase with foreigner-friendly guarantor companies.
Q2

Is a temporary rental contract a "Corporate Contract" or an "Individual Contract?"?

We provide both "Corporate" and "Individual" Contracts. That's why we receive requests for apartment searches from both the HR representatives from corporations as well as foreign individuals themselves (or exchange students).
Q3

Are there any hidden costs??

The "wagaya Apartment Search Service" is 100% free. However, a regular rental contract incurs stupilated fees (deposit, key money, agency fee, etc.). Also, the "wagaya Sublease Service" also has charges. We have reasonable flat rates, so please inquire for details.
Q4

Instead of just foreign employees, can Japanese employees also receive corporate housing mediation??

Absolutely. There are a subsantial number of Japanese customers utilizing this service. We also provide apartment search services for employee family members at a special price.
Q5

What kind of issues may arise during tenancy??

Amenity issues include problems with the water heater, leakage, blockage, air conditioner malfunction, etc.
Also, issues that foreigners tend to create are poor garbage separation, noise, and multiple occupancy. If you face any such issues, our company's "wagaya call 24" service will deal with all of them.
Q6

When is a good time to request an apartment search??

It's best to request an apartment search about 1 to 2 months prior to your move-in date. We can also handle urgent requests, so please feel free to inquire.
Q7

Is there a contract or any fees for a business partnership??

A business partnership does not incur any fees. As for a contract, we can prepare a draft that just needs to be confirmed.
We support apartment seekers from all over the world in multiple language.
China

Korea

Philippines

Vietnam

Nepal

USA

Taiwan

Thailand
【Our Track Record】
China, Korea, Philippines, Vietnam, Nepa, USA, Taiwan, Thailand, England, Iceland, Ireland, Scotland, Germany, France, Italy, Poland, Russia, Australia, Canada, New Zealand, Trinidad & Tobago, Uruguay, Colombia, Spain, Portugal, The Netherlands, Nigeria, Cote d'Ivoire, Democratic Republic of Congo, Hong Kong, Indonesia, India, Saudi Arabia, Mexico, Argentina, Brazil, Greece, Sweden Norway, Singapore, Egypt, Pakistan, Malaysia, Lebanon, Switzerland, Czech Republic, etc.