The Charms of Japan: Osaka Prefecture Recommendations
2022-04-10
Town & Local Area Info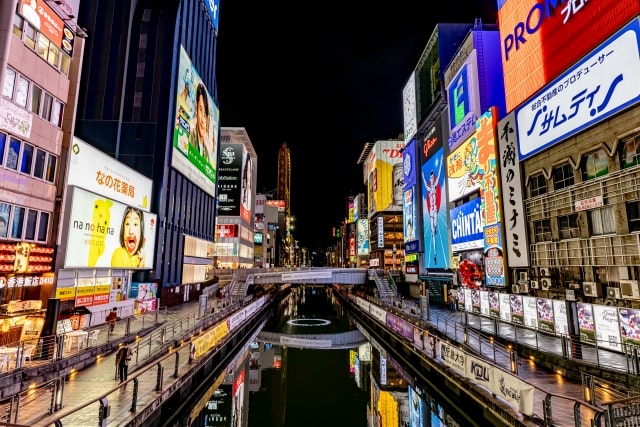 Osaka Prefecture is famous not only for its sightseeing spots that include World Heritage sites and great nature, it is also known for its delicious local food. Osaka is also popular with foreign tourists as it features a different culture and dialect from that of Tokyo. From Tokyo, you can get to Osaka in around 2.5 hours by shinkansen. It might not be suitable for a day trip, but since there is a lot to see and enjoy, you should definitely spend more than a day in Osaka.
In this article, we'll introduce the charms of Osaka, from the food to sightseeing and nature spots.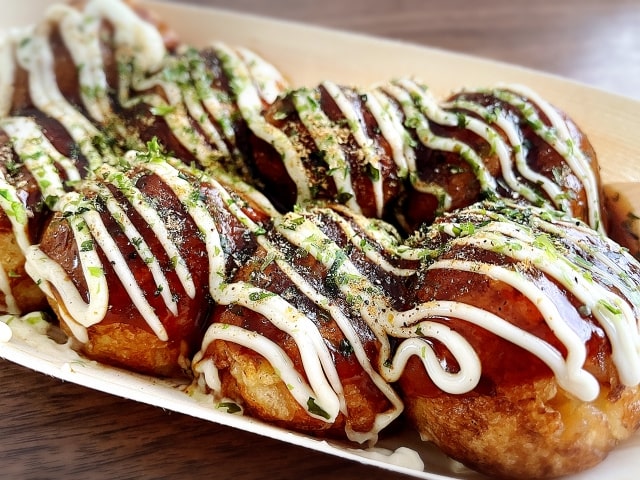 The Food of Osaka
Osaka is famous for its rich variety of local food. Here we introduce some Osaka specialties that you should definitely try.
Takoyaki
Takoyaki or "octopus balls" are ball-shaped snacks made with batter filled with slices of octopus. It is considered a soul food of Osaka, with over 3,000 takoyaki shops and stalls in the prefecture. Many Osaka residents also like to make takoyaki at home, and each one has their own favorite ingredients and seasonings to put.
In many other parts of Japan, takoyaki is usually fried to a crispy firmness, but in Osaka, it is usually made crispy on the outside but soft and melty on the inside. One way to enjoy takoyaki in Osaka is to try and compare the offerings of many different shops to find your own favorite.
Okonomiyaki
Like takoyaki, okonomiyaki is also a dish considered to be a soul food of Osaka. Okonomiyaki in Japan has two main variants, the Osaka-style and the Hiroshima-style. Hiroshima-style okonomiyaki includes noodles and bean sprouts, and is layered instead of mixed during cooking. Osaka-style okonomiyaki has a thicker dough, and the ingredients are mixed instead of layered. In many okonomiyaki restaurants in Osaka, the dish is cooked on a hot griddle right in front of you.
Okonomiyaki served with a layer of noodles is called modan-yaki in Osaka. Its name is said to be derived from the English word "modern", or a contraction of the Japanese word "moridakusan" which means "plenty" or "piled high".
While most okonomiyaki restaurants in Osaka are delicious, places that are geared towards tourists are a bit more expensive. If you want to enjoy cheap but tasty okonomiyaki loved by Osakans, you should move away from popular sightseeing areas and ask the locals for their recommendations. Most Osaka residents will be happy to share their favorite shops with you.
551 Horai Pork Butaman
551 Horai is a famous shop that sells "butaman" or steamed buns filled with minced pork. Their main shop is located just a minute away from the Namba subway station, and is a must-visit when sightseeing in Osaka. Their products have become a popular souvenir for visitors to Osaka. Besides pork buns, they also serve shumai dumplings and anman (steamed buns with red bean paste).
Kushikatsu
Another famous delicacy in Osaka is kushikatsu, deep-fried skewers of meat and vegetables covered in batter. Kushikatsu in Osaka comes in a wide variety of ingredients sliced into bite-sized pieces, covered with a fine batter of flour and bread crumbs. One unique item in Osaka is the "beni-shoga" or red pickled ginger kushikatsu.
One rule you have to remember when eating kushikatsu is to never dip the skewers into the sauce one more time after taking a bite, i.e. no double dipping. This rule exists for sanitary reasons, since the sauce trays are often shared between many customers.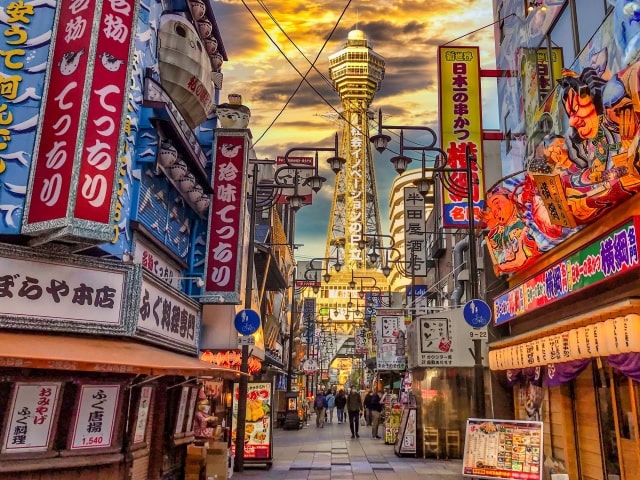 Sightseeing Spots in Osaka
The following are some recommended sightseeing spots in Osaka Prefecture.
Osaka Castle and Osaka Castle Park
Osaka Castle is a majestic castle that was built by Toyotomi Hideyoshi, one of the great unifiers of Japan. Together with the surrounding Osaka Castle Park, this place is full of beautiful spots and historical treasures. Its main tower has been rebuilt several times throughout its history. It actually burned down after getting hit by lightning in 1665, and was only reconstructed in 1931 through donations from Osaka residents. Visitors can go up the tower to enjoy the view of Osaka from its windows.
Tenjinbashisuji Shopping Street
At 2.6 kilometers, the Tenjinbashisuji Shopping Street is the longest covered shopping arcade in Japan. It features around 600 different shops that includes many food establishments, drugstores, and apparel shops. It originated as a commercial neighborhood for the Osaka Tenmangu shrine. This place is also the venue for the famous Tenjin Festival held annually on July 24th and 25th.
Tsutenkaku Tower and Shinsekai Area
The Tsutenkaku Tower is one of the famous landmarks of Osaka. It is known for its unique Golden Observation Platform and Light Observation Platform where visitors can enjoy a view of the Osaka cityscape.
The Tsutenkaku Tower is located in Shinsekai, a sprawling commercial district. It was originally modeled after New York and Paris, but it is now a unique area where you can experience the old town atmosphere of Osaka. The streets are lined with small shops smothered in signs and neon lights. At its southeastern corner is Janjan Yokocho, an alley filled with kushikatsu shops, izakaya pubs, and other small establishments with a nostalgic atmosphere.
Located not far from Shinsekai beside Tennoji Station is Abeno Harukas, the tallest building in Japan. It stands 300 meters tall, and features an observatory where you can enjoy a panoramic view that includes Kyoto, the Akashi Strait, and Mt. Ikoma.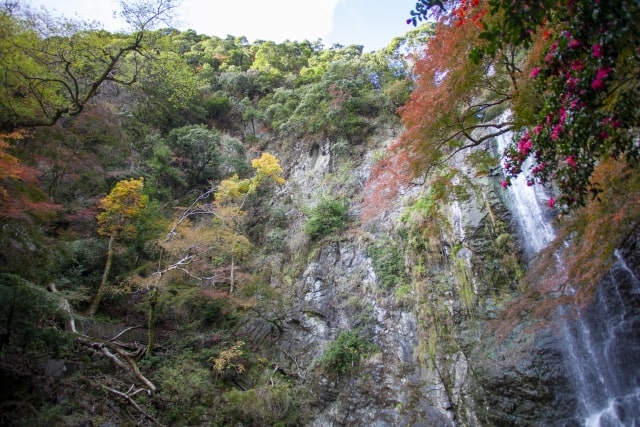 Nature Spots of Osaka
Osaka Prefecture is also home to some great nature. The following are some recommended nature spots in Osaka.
Minoh Waterfall
The Minoh Waterfall is a 33-meter high waterfall that has been selected as one of Japan's Top 100 Waterfalls. It is located in the Meiji no Mori Minoh Quasi-National Park, which is a famous spot to see colorful autumn foliage.
Another recommended spot not far from Minoh Waterfall is the Ryuanji Temple, known as the birthplace of lotteries in Japan. You can stop by for a visit as you enjoy the nature along the hiking trail towards the waterfall.
Mozu-Furuichi Tombs
The Mozu-Furuichi Kofun Group is a group of ancient burial mounds that has been designated as a UNESCO Cultural World Heritage Site. It consists of 49 mounded tombs from the Mozu kofun cluster in Sakai City and the Furuichi kofun cluster in the cities of Fujiidera and Habikino. Its most famous site is the Daisenryo Kofun, the largest kofun tomb in Japan that is believed to be the tomb of Emperor Nintoku.
Shimoakasaka Rice Terraces
The Shimoakasaka Rice Terraces are terraced rice paddy fields located in Chihayaakasaka Village, the only village in Osaka Prefecture. It has been selected as one of Japan's Top 100 Terraced Paddy Fields. This place is a photogenic spot that attracts both Japanese and foreign tourists. Every year on the second Saturday of November, the paddy fields are illuminated in countless lights.
Summary
In this article, we featured some of the charms of Osaka Prefecture. Osaka is a place of delicious food, magnificent sightseeing spots, and great nature. It is a popular destination for both Japanese and foreign tourists, with easy access to Kyoto. There are plenty of other hidden attractions in Osaka all year round, so why not pay a visit and discover it for yourself?