Recommended Residential Areas for Foreign Residents Commuting to Shinjuku
2021-08-30
Town & Local Area Info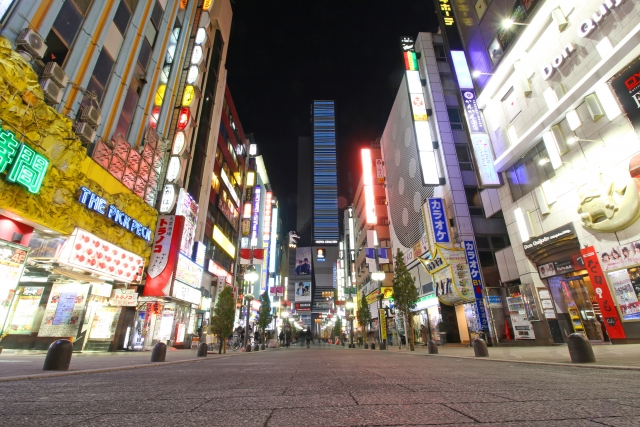 Shinjuku is one of the most prominent business and commercial districts in Tokyo, up there with Shibuya and Ikebukuro. It is home to many department stores, electronics retail stores, fashion stores, and other commercial centers.
Just a short walk from Shinjuku's bustling city streets is Shinjuku Gyoen, a large park that will make you forget you're in the center of metropolis. In spring, Shinjuku Gyoen becomes a popular spot for cherry blossoms, but it is a good place for a relaxing walk in any season.
Shinjuku Station is the busiest station in Japan in terms of passenger traffic. Since it is a popular area, rental properties near Shinjuku Station are quite expensive. If you want to live near the area without breaking the bank, here we list down some recommended residential areas that provide convenient access to Shinjuku (located within 30 minutes by train, accessible without transfers).
■Meidaimae Station Area
From Meidaimae Station, you can reach Shinjuku Station by the Keio Line in just around 7 minutes. This station is also served by the Keio Inokashira Line, so you can also easily access Shibuya Station without transfers.
Meidaimae Station is located near the Meiji University Izumi Campus, so the surrounding area has many reasonably-priced but delicious food establishments aimed at college students.
The average monthly rent for a studio type room near Meidaimae Station is 68,000 yen. This is quite inexpensive considering that Shinjuku and Shibuya are directly accessible by train in under 10 minutes. While the Meidaimae Station area has no big shopping centers, this is not so inconvenient as you can just do your shopping at Shinjuku or Shibuya.
Around the station, there are some family restaurants, fast food establishments, cafes, and many izakaya pubs and ramen shops. There is also a high-end supermarket, but if you want to be more frugal, you can go to the Gyomu Super located within walking distance towards Sasazuka Station.
According to crime statistics, the Meidaimae Station area is quite safe, with very little petty or violent crimes reported. However, since there are many izakaya pubs in the area, it is probably not uncommon to see some drunken people at night.
■Kichijoji Station Area
From Kichijoji Station, you can reach Shinjuku Station by the JR Chuo Line (Rapid) in just 16 minutes.
The station building and its surrounding commercial district features a large shopping mall and department store, making shopping in the area convenient. There are also many restaurant chains and small eateries that offer various kinds of food.
Another attraction of the Kichijoji Station area is Inokashira Park, a place where you can enjoy greenery in the middle of a city. The park also has a zoo, making it popular for families.
The area also has 26 convenience stores and 11 supermarkets within a 500 meter radius of the station. Most of the supermarkets do not operate late at night, so if you need to do some late night groceries, you should go to the Mini Piago Kichijoji Minamicho 2-chome branch that operates 24 hours a day.
The average monthly rent for a studio type room near Kichijoji Station is 65,000 yen, which is quite reasonable considering its ease of access to Shinjuku.
The Kichijoji Station area is relatively safe, with not many reports of violent crime, though it is probably a good idea to avoid certain places. This includes the Kichijoji Station North Exit area which has several red light establishments. Some of the busy areas around the station are also known hotspots for bicycle theft.
■Koenji Station Area
From Koenji Station, you can reach Shinjuku Station by the JR Chuo Line (Rapid) in just 7 minutes.
The average monthly rent for a studio type room near Koenji Station is 69,000 yen.
The station's surrounding area is a commercial district with many shops, making shopping convenient. There are also many food establishments, including restaurant chains and some privately-owned shops with an old Showa atmosphere that is popular with many foreigners.
Nearby, there are around six supermarkets, including bargain stores like OK Store and Gyomu Super.
Reports of theft and violent crime are rare in the area, but it is probably a good idea to avoid Koenji Minami 3-chome and 4-chome near the station's south exit. A relatively safer part is around Koenji Kita 2-chome.
Koenji is famous for holding the Awa Odori Festival every year in August. It is the largest dance festival of its kind outside of Tokushima Prefecture, where the dance originates. It is one Tokyo's largest street festivals, and is popular with both locals and foreign tourists.
■Kinshicho Station Area
From Kinshicho Station, you can reach Shinjuku Station by the JR Chuo-Sobu Line in 25 minutes. The station is also served by the JR Sobu Line (Rapid) and the Tokyo Metro Hanzomon subway line.
The average monthly rent for a studio type room near Kinshicho Station is 73,000 yen.
The Kinshicho Station area has been increasing in popularity in recent years. Surrounding the station is the largest shopping district in Sumida Ward. It features several large department stores such as Arcakit Kinshicho and Olinas Kinshicho.
There are also plenty of supermarkets and convenience stores. If you like cooking your own meals, one good place to buy cheap but high quality meat is Japan Meat, located in the basement of Marui Kinshicho.
While the area previously had an image of poor safety, nowadays, reports of violent crimes are rare, and it has become a popular residential area for families.
■Summary
In this article, we introduced some recommended residential areas that provide direct train access to Shinjuku in under 30 minutes.
The Shinjuku Station area is major commercial and business district, but living there can be quite expensive. Nevertheless, since Tokyo has a well-developed train and subway network, it is possible to live in an area that offers convenient access to Shinjuku.
The stations on the Keio Line and JR Chuo Line are good candidates for such residential areas. Some places like Koenji and Kichijoji are also popular for their unique local culture and atmosphere.
Shinjuku is a major terminal station that is served by many railway lines. Try searching for properties near the stations along these lines to find other suitable areas within your preferred travel time to Shinjuku.