All About the Shimo Kitazawa Area
2021-06-30
Town & Local Area Info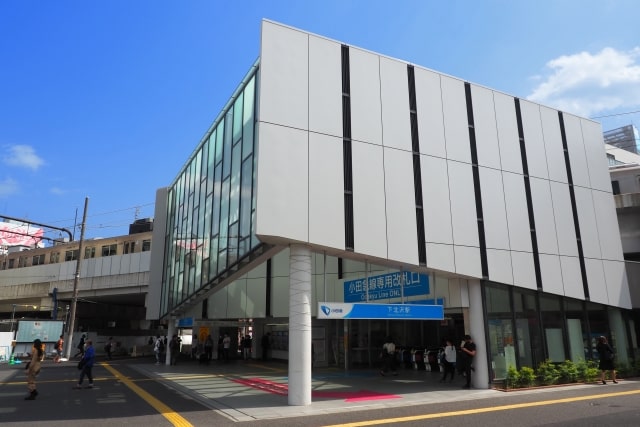 Shimo Kitazawa is the bohemian district of Tokyo, famous for its many live music clubs. It is a popular area with Japanese youth, but its vintage shopping scene and retro atmosphere has also made it popular with many foreign tourists and residents.
In this article, we'll take an in-depth look into the Shimo Kitazawa area and examine its charms, its safety, and its suitability as place to live in.
Characteristics and Charms of the Shimo Kitazawa Area
Shimo Kitazawa, often referred to as "Shimokita", is a famous shopping and entertainment district in Tokyo. It is popular for its convenient location close to Shinjuku and Shibuya, as well as its various youth subcultures that include music and theater.
There is actually no official district named "Shimo Kitazawa." This name generally refers to the Kitazawa district of Setagaya Ward. Shimo Kitazawa literally means "lower north swamp." One theory for the origin of the name is that the place was located downstream in the northern part of an area with many swamps. Conversely, the upstream likely refers to the area around Kami Kitazawa Station ("kami" meaning "upper").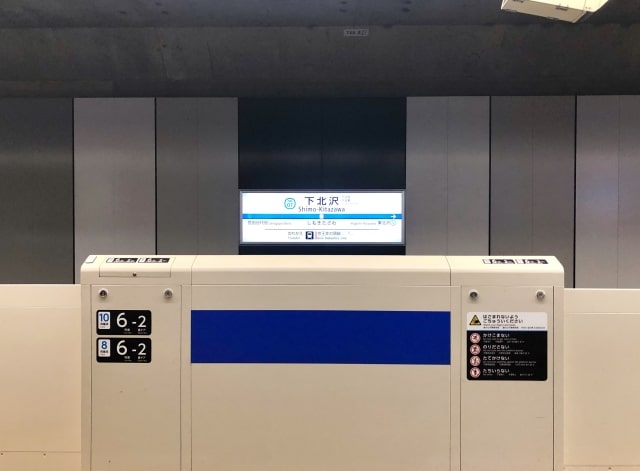 Shimo Kitazawa Access Information
Shimo Kitazawa Station, the main station of the Shimo Kitazawa area, is served by two railway lines:
Private railways:
Odakyu Odawara Line
Keio Inokashira Line
Travel times by train from Shimo Kitazawa Station to other major stations in Tokyo are as follows.
Shibuya Station: 4 minutes
Shinjuku Station: 11 minutes
Ikebukuro Station: 24 minutes
Tokyo Station: 24 minutes
Ginza Station: 25 minutes
Haneda Airport: 40 minutes
Narita Airport: 1 hour 20 minutes
Being located within 15 minutes from Shibuya, Shinjuku, and Tokyo makes Shimo Kitazawa a convenient station for commuting to school or work. It is also offers relatively easy access to Haneda Airport, a plus for those who fly often. However, the station is often crowded during the morning rush hour, and waiting long lines to get on a train is a common occurrence.
Shimo Kitazawa Area Safety Information
According to the Tokyo Crime Map, the Kitazawa 2-chome area near Shimo Kitazawa Station has a relatively high number of crimes, making its safety a bit worrisome. But besides this spot, the Shimo Kitazawa area is fairly safe with little to no crime recorded, and is suitable for those living alone.
The Kitazawa 1-chome and Hanegi 1-chome areas features vast residential areas that are fairly quiet and convenient. They can be good choices if you plan to live in the Shimo Kitazawa area.
Shimo Kitazawa Area Apartment Rent Rates
The following are average monthly rental rates for different apartment types in the Shimo Kitazawa area.
| | |
| --- | --- |
| Apartment type | Rate |
| Studio | 81,000 yen |
| 1K | 86,700 yen |
| 1DK | 102,600 yen |
| 1LDK | 108,400 yen |
| 2LDK | 200,800 yen |
| 3LDK | 242,500 yen |
The Shimo Kitazawa area is popular for the convenience offered by Shimo Kitazawa Station, and apartment rental rates are also cheaper compared to the nearby areas of Shibuya and Shinjuku.
The following shows average rental rates for studio or 1K rooms near stations adjacent from Shimo Kitazawa Station. As you can see, living near Shin-Daita or Setagaya-Daita Station can save you several thousand yen in monthly rent.
| | | | |
| --- | --- | --- | --- |
| Keio Inokashira Line | Shimo Kitazawa | Ikenoue | Shindaita |
| Studio/1K rate | 108,400 yen | 112,000 yen | 92,000 yen |
| Average rent | 82,000 yen | 87,500 yen | 80,000 yen |
| | | | |
| --- | --- | --- | --- |
| Odakyu Odawara Line | Shimo Kitazawa | Higashi-Kitazawa | Setagaya-Daita |
| Studio/1K rate | 108,400 yen | 114000 yen | 104,000 yen |
| Average rent | 82,000 yen | 94,000 yen | 82,000 yen |
Despite being a semi-major station, rents for apartments near Shimo Kitazawa are actually cheaper on average than in the neighboring stations of Ikenoue and Higashi-Kitazawa. Still, among stations on the Keio railway line, Shimo Kitazawa ranks 5th in terms apartment rental cost.
If you really want to minimize your monthly rent while maintaining convenience of access, you should look for a place near Meidaimae Station. While this station is not served by the Odakyu Line, it is served by the Keio Line and the Keio Inokashira Line which provide direct access to Shibuya and Shinjuku.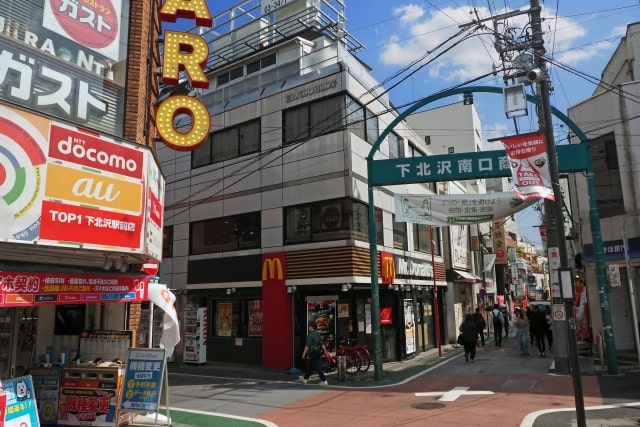 Shimo Kitazawa Area Recommended Spots
Here we list some recommended spots in the Shimo Kitazawa area for shopping, dining, and sightseeing.
Shimo Kitazawa Area Shopping Spots
One way to enjoy the Shimo Kitazawa area is to visit the many vintage clothing and handicraft stores lining the streets one by one.
・New York Joe Exchange Shimo Kitazawa
New York Joe has a similar sound to the Japanese word "nyuyokujo" which means "bathing area". This popular vintage clothing shop was built from an old bathhouse, hence the name. They also buy used clothing, so you can also bring and sell any unwanted garments.
・Sukonbu
This handicraft store sells various accessories, with a focus on silver and handmade earrings. The items are displayed in wooden shelves that give a feel for the style of each designer. You can find both niche items as well as cute and charming accessories that appeal to the masses.
・Flamingo
Originally from Harajuku, Flamingo is a popular vintage clothing store with three shops in the Shimo Kitazawa area. Their shops have a trademark neon pink flamingo-shaped sign. Stocks carried by each shop often vary, so it's fun to visit each one and see what they have to offer.
Shimo Kitazawa Area Restaurants
Here are a few recommended restaurants in the Shimo Kitazawa area.
・Magic Spice Shimo Kitazawa
This restaurant is said to be the place that made soup curry (a dish originally from Sapporo) popular in Tokyo. The red walls of the restaurant give an out-of-this-world feel, yet it somehow gels well with the atmosphere of Shimo Kitazawa. You can choose the spiciness level of your curry, so it's great whether you're a chili-head or someone who can't stand the heat.
・Jun Teuchi Men to Mirai
A ramen restaurant that specializes in salt-based shio ramen with thick, flat noodles. The noodles have a chewy texture that grabs hold of the soup and wonderfully fills your mouth. The soup even makes use of Japanese sake as an ingredient, so it's definitely different from your regular ramen shop.
・Shimokita Chaen Oyama
A shop that offers Japanese tea and sweets, they have also become popular for their kakigori shaved ice desserts. Their green tea is of a very high quality, and is a must-try for Japanese tea lovers.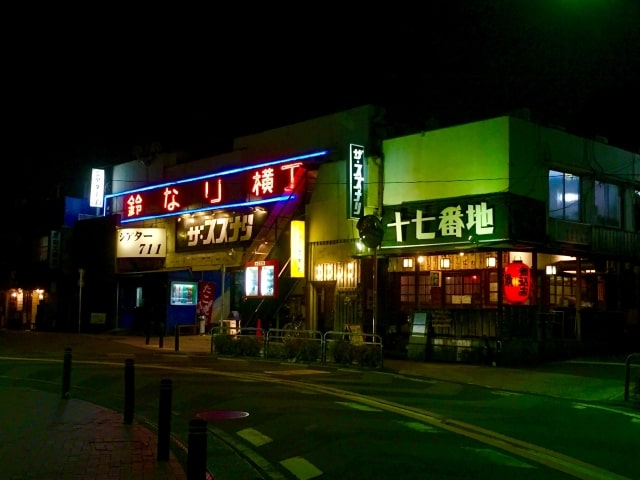 Shimo Kitazawa Area Sightseeing Spots
Here are some recommended sightseeing spots in the Shimo Kitazawa area.
・The Suzunari
The Suzunari is a small theater that is said to have made Shimo Kitazawa a famous place for the performing arts. The theater has a retro atmosphere and can accommodate up to 200 people. The stage is placed quite near the front seats, so you can enjoy intense performances up close.
・Shinryuji Temple
A small Buddhist temple that stands solemnly near Shimo Kitazawa Station. It is a little-known spot that is a bit hard to find. Inside the temple grounds, you can find a large red tengu mask that has been named as one of the "100 Views of Setagaya".
・Shimo Kitazawa Tollywood
A small, independently-owned movie theater that shows a unique selection of films. Movie buffs can enjoy nostalgic classics as well as works by up-and-coming filmmakers. It's a great place to sit back, relax, and enjoy a movie while taking a break from exploring Shimo Kitazawa.
Summary
In this article, we introduced a variety of information about the Shimo Kitazawa area, from its charms to its safety and recommended spots. With convenient access to the airport as well as major urban centers in Tokyo, Shimo Kitazawa is popular for both Japanese and foreign residents. It is also a fun place to explore if you want to shop for vintage clothing and accessories, enjoy food or live music and theater performances.