All About the Shinjuku Area
2021-05-30
Town & Local Area Info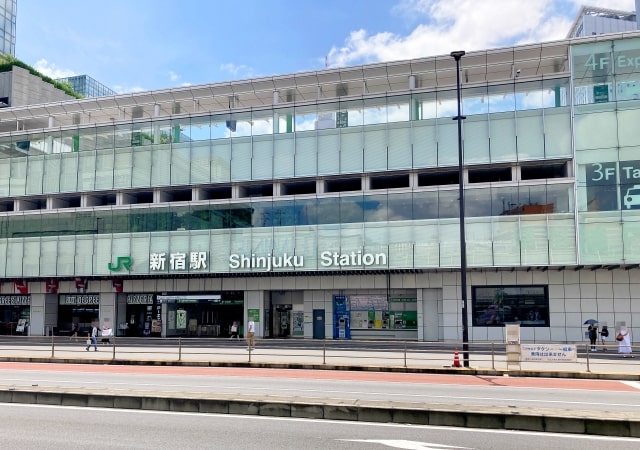 Shinjuku is one of the most prominent business and commercial districts in Tokyo, up there with Shibuya and Ikebukuro. It is home to many large department stores, electronics retail stores, and apparel shops. Away from the busy urban center, it also features areas of rich greenery. Shinjuku is not only a popular spot for foreign tourists, it is also a sought-after area for foreign residents living in Japan.
In this article, we'll take an in-depth look into the Shinjuku area and examine its charms, its safety, and its suitability as a place to live.
Characteristics and Charms of the Shinjuku Area
Shinjuku is one of the major urban centers of Tokyo. Shinjuku Station is the busiest train station in the world in terms of passenger traffic.
The name Shinjuku means "new post station." It was originally developed as a new post station along the Koshu Kaido, a major travel route during the Edo Period, between the starting point of Nihonbashi and the Shimotakaido post station because the distance between these two points was too long.
The Shinjuku area largely escaped the devastation of the Great Kanto Earthquake of 1923, and it developed as a major business and commercial district ever since. Shinjuku is now a vibrant urban center with many high-rise office buildings, including the Tokyo Metropolitan Government Building, as well as entertainment districts such as Kabukicho.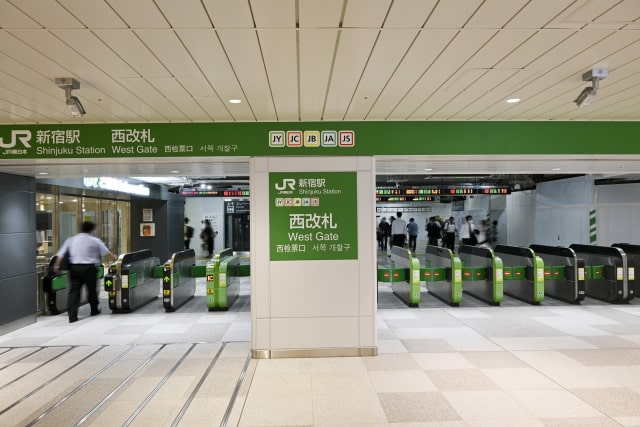 Shinjuku Access Information
Shinjuku Station, the main station of the Shinjuku area, is served by the following railway lines.
JR East:
Yamanote Line
Chuo Line
Chuo-Sobu Line
Saikyo Line
Shonan-Shinjuku Line
Narita Express
Subway:
Tokyo Metro Marunouchi Line
Toei Shinjuku Line
Toei Oedo Line
Private railways:
Keio Line
Keio New Line
Odakyu Odawara Line
Shinjuku Station is often likened to a dungeon or labyrinth because of its enormous and highly complicated structure. It has well over 200 exits, some of which are located quite far apart, so it is quite common not only for foreign tourists but also Japanese travelers to get lost.
Another prominent station in the area is Seibu-Shinjuku Station, served by the Seibu-Shinjuku Line. This station is located over 400 meters away from Shinjuku Station.
The following are travel times by train from Shinjuku Station to other major stations in Tokyo.
Shibuya Station: 5 minutes
Ikebukuro Station: 6 minutes
Tokyo Station: 16 minutes
Haneda Airport: 52 minutes
Narita Airport: 100 minutes
As you can see, Shinjuku is quite conveniently located in terms of access to Shibuya, Ikebukuro, and Tokyo Stations, making it a highly-used station by passengers commuting to school or work.
Shinjuku Area Safety Information
According to the Tokyo Crime Map, the Kabukicho area (Shinjuku 3-chome and Nishi-shinjuku 1-chome) to the north of Shinjuku Station has a relatively high number of crimes, and the place has an image of poor safety.
The Shinjuku 4-chome area near Shinjuku Station has relatively less crime, making it a more suitable place to live, especially for those living alone. Another relatively quiet residential area is Nishi-shinjuku 5-chome.
Since most areas of Shinjuku are quite convenient in terms of shopping, you won't have trouble buying daily necessities wherever you stay. But if safety is high on your list, it's a good idea to look for a room in Shinjuku 4-chome or Nishi-shinjuku 5-chome.
Shinjuku Area Room Rent Rates
The following are average monthly rental rates for different room types in the Shinjuku area.
| | |
| --- | --- |
| Room type | Rate |
| Studio | 79,000 yen |
| 1K | 98,000 yen |
| 1DK | 99,500 yen |
| 1LDK | 174,000 yen |
| 2LDK | 255,000 yen |
| 3LDK | 261,500 yen |

The Shinjuku area is popular for the convenience offered by Shinjuku Station, but compared to Shibuya, rents are fairly cheaper.
| | | | |
| --- | --- | --- | --- |
| | Shinjuku | Ikebukuro | Shibuya |
| Studio/1K rate | 79,000 yen | 72,000 yen | 92,000 yen |
| Average rent | 119,000 yen | 79,000 yen | 265,000 yen |
If you want to live in the Shinjuku area but would rather minimize your rent, you should look for a place nearer to a neighboring station instead of Shinjuku Station. For example, let's take a look at the rates around Nakano and Yotsuya Station (adjacent stations from Shinjuku on the Chuo Line).
| | | | |
| --- | --- | --- | --- |
| | Shinjuku | Nakano | Yotsuya |
| Studio/1K rate | 79,000 yen | 62,000 yen | 88,000 yen |
| Average rent | 119,000 yen | 77,000 yen | 115,000 yen |
If you want to live in a quiet area away from the bustle of Shinjuku while maintaining convenience of access, you should look for a place around Yoyogi Station or Hatsudai Station. Rents are similar with those in Shinjuku, and they are still within walking distance of the central Shinjuku area.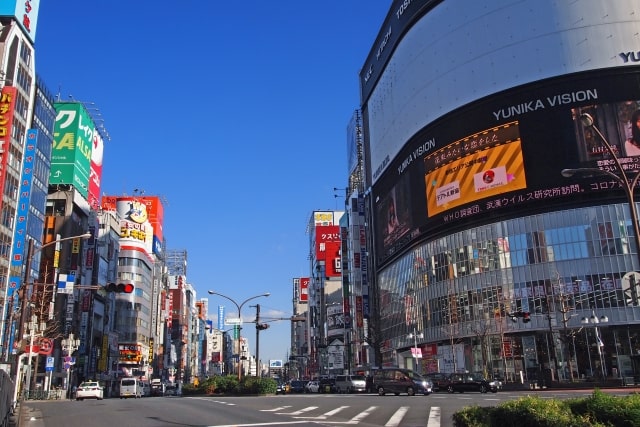 Shinjuku Area Recommended Spots
Shinjuku is a vibrant area with countless shops, restaurants, and places of interest. Here we list some recommended spots in the area for shopping, dining, and sightseeing.
Shinjuku Area Shopping Spots
The Shinjuku Station building is directly connected with several shopping malls, and is also located near large department stores such as Takashimaya and Isetan.
4 Major Department Stores
The four major department stores in the Shinjuku area are Isetan, Takashimaya, Keio, and Odakyu. Each one has its own forte. For example, the Odakyu Department Store is known for frequently holding Hokkaido food fairs, while Isetan is the place to go for the latest trendy items.
Lumine 1 and Lumine 2
Lumine 1 and Lumine 2 are connected department stores that feature rows of apparel shops and many other stores. They also have a stage where you can enjoy Japanese stand-up comedy performances.
Seibu Shinjuku PePe & Brick St.
Seibu Shinjuku PePe & Brick St. is located in the underground mall between the Shinjuku Station West Exit and the Kabukicho area. Fashion items here are relatively cheaper compared to Lumine, and there are also many rare food establishments that make it a fun place to visit.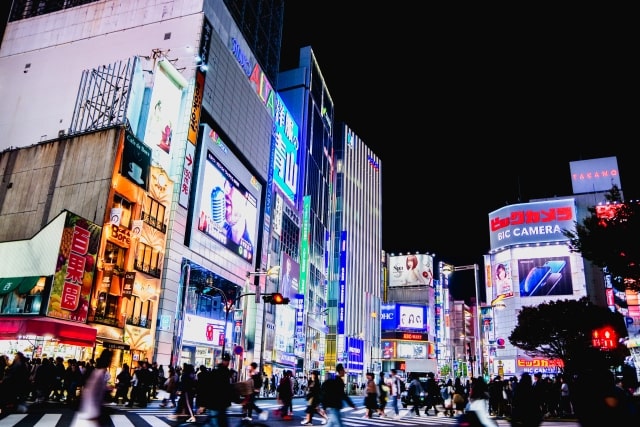 Shinjuku Area Restaurants
Here are a few recommended restaurants in the Shinjuku area.
Ramen Hayashida
Shinjuku is home to countless ramen restaurants, but one good place to try is Ramen Hayashida. This shop offers a simple soy sauce-based soup that is rich in umami. They also offer a tai-chazuke (sea bream and rice with tea), an item that sets them apart from other ramen shops.
Ebisoba Ichigen
This place is also a ramen restaurant, but their specialty is a rare kind of ramen made with shrimp broth. The thick noodles go well with the savory shrimp-flavored soup. The food ticket machine has English labels, making it a foreigner-friendly ramen restaurant.
Toritamura Honten
Toritamura Honten is a yakitori (chicken skewers) restaurant established in 1974. The small restaurant only has several counter seats and a few low tables, but it lets you experience an authentic Japanese izakaya atmosphere.
Shinjuku Area Sightseeing Spots
Here are some recommended sightseeing spots in the Shinjuku area.
Shinjuku Gyoen
Shinjuku Gyoen is a national garden that was completed in 1906 during the Meiji period. The vast garden has an area of 58.3 hectares, and features around 10,000 trees. A visit to this place of rich greenery will make you forget that you are in the middle of a bustling metropolis.
Tokyo Metropolitan Government Building Observatory
The Tokyo Metropolitan Government Building Observatory offers a stunning view of the Tokyo metropolis from a height of 202 meters. What's more, entrance is totally free. Note that it is currently closed due to the COVID-19 pandemic, so make sure to check the latest information before visiting.
Meiji Jingu
Meiji Jingu is a famous Shinto shrine located not far from Yoyogi Station. The shrine's vast forested area and solemn atmosphere will make you forget about the hustle and bustle of the city.
Summary
In this article, we introduced a variety of information about the Shinjuku area, from its charms to its safety and recommended spots. Shinjuku offers convenient access to almost every part of Tokyo as well as its airports, and is a popular area with both Japanese and foreign residents. Shinjuku offers plenty of options for shopping, dining, and sightseeing, so it's definitely worth a visit.