Safety and Security in the 23 Wards of Tokyo: Nerima Ward
2019-03-10
Town & Local Area Info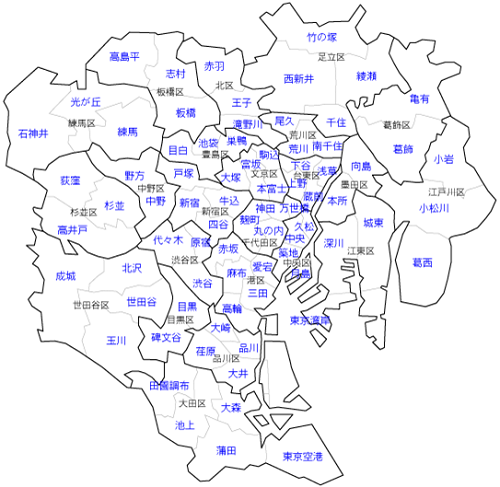 In this article, we'll discuss the safety and security of Nerima Ward in Tokyo. First, let's take a look at some basic information and statistics.
Nerima Ward
■ Population: 721,900
■ Area: 48.16 km²
■ Crime rate (No. of reported crimes ÷ Population × 100%): 0.63%
■ Reported crimes by type:
・Bicycle theft: 3,027 cases
・Vehicle load theft: 223 cases
・House burglary: 200 cases
Nerima Ward: A quiet commuter town for the Tokyo metropolis
Nerima Ward is located in the northwestern edge of the 23 special wards of Tokyo. It is the 5th largest ward in terms of area, after Ota, Setagaya, Adachi, and Edogawa.
Among the 23 special wards, Nerima has comparatively cheaper land prices, making it attractive as a residential location. Indeed, it serves as a commuter town for the Tokyo metropolis, with a nighttime population that is significantly higher than its daytime population. It is actually the second most populous special ward behind Setagaya.
Nerima Ward is home to many farm fields and parks, and over 20% of its land area is covered by greenery. Some of its famous parks include Hikarigaoka Park, Johoku-Chuo Park, Shakujii Park, and Musashiseki Park.

Safety and security in Nerima Ward
Nerima Ward has had a relatively high number of cases of money transfer fraud, purse snatching, and other crimes targeting the elderly. This has led the ward to hold "safety classrooms for the senior citizens" in an effort to prevent residents from falling victim to such scams and criminal activity.
Similar safety classrooms are also held at the ward's kindergartens and elementary and junior high schools. Other measures for child protection include the dispatch of private security guards or "school guard leaders" (retired police officers etc. who advise schools and safety volunteers on crime prevention) to public schools, and the installation of emergency alert systems in schools.
Nerima is also proactive in maintaining and protecting the environment. Besides conducting regular tree pruning and graffiti removal operations, the ward has also installed public surveillance cameras around the city, with the hope of reducing the crime rate.
Convenient access to central Tokyo
The quiet and nature-rich suburb of Nerima has good access to the Tokyo city center, making for an easy daily commute to school or work. The Oedo, Yurakucho, and Fukutoshin subway lines, as well as the Seibu Ikebukuro, Seibu Shinjuku, and Tobu Tojo railway lines all pass through the ward, providing direct access to major stations such as Shinjuku and Ikebukuro.
Hikarigaoka Station is the western terminus of the Oedo Line, so commuters riding from here have a very good chance of getting a seat in the train. The Oedo Line is also known for having very few service delays or suspensions due to weather or natural disasters, and its stations can even act as emergency underground shelters.
If you're looking to go out for fun, the Fukutoshin Line can take you direct from Nerima to the major commercial centers of Ikebukuro, Shibuya, and Yokohama without the need for transfers.
Summary
Compared to the other special wards in Tokyo, Nerima may be a bit on the high side in terms of crime rate, but the ward is proactively implementing various crime prevention measures that should improve its safety and security in the future.