Safety and Security in the 23 Wards of Tokyo: Koto Ward
2019-02-24
Town & Local Area Info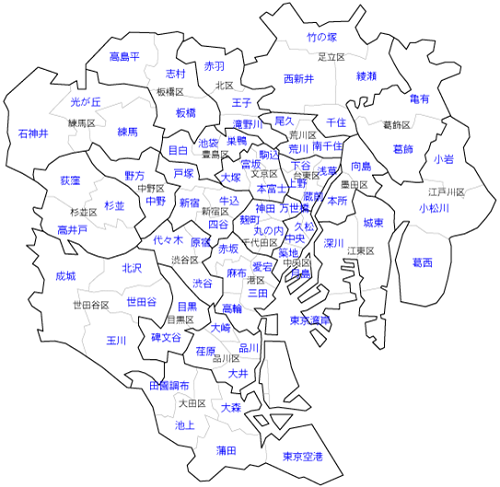 In this article, we'll discuss the safety and security of Koto Ward in Tokyo. First, let's take a look at some basic information and statistics.
【Koto Ward】
■ Population: 488,600
■ Area: 39.99 km²
■ Crime rate (No. of reported crimes ÷ Population × 100%): 0.82%
■ Reported crimes by type:
・Bicycle theft: 1,351 cases
・Violent offenses: 223 cases
・House burglary: 137 cases
【Koto Ward: A coastal city with a rich waterfront】
Koto Ward can be roughly divided into three major areas: the Toyosu/Shinonome Area where many high-rise buildings stand, the Kameido/Kiyosumi Shirakawa Area with its old town atmosphere, and the Odaiba/Ariake Area, one of Tokyo's most popular sightseeing districts.
With the recent opening of the Toyosu Market, Koto Ward is likely to see increased development and growth. One district currently under development is Tatsumi, with the Tatsumi municipal apartments undergoing a major renovation. Tatsumi is scheduled to hold the swimming events of the Tokyo 2020 Olympics.
Throughout its history, freight and shipping has been one of the main industries of Koto Ward, and many dockworkers reside here even today. At the same time, its bay area has seen remarkable development in recent years as a tourism site, especially after Fuji Television moved its headquarters to Odaiba. Some of the popular tourist activities in the area include leisure boat rides from Odaiba to Toyosu or up to Asakusa.
【Safety and security in Koto Ward】
Koto Ward is a relatively safe area where many families choose to live. This is especially true for the Ariake/Shinonome/Toyosu districts, where many high-rise rental apartments and condominiums are built. This area has an image of luxury, which also means that is has good safety and security.
On the other hand, the Tatsumi district, known for its rows of aging municipal apartments where many elderly singles and foreign residents live, has an image of being less safe. Though it's not at all that bad when compared overall to the 23 special wards of Tokyo, it does have a noticeably high rate of bicycle theft and other minor offenses.
As the sharing economy expands in the country, even cars and bicycles are expected to become shared commodities, and this will probably lead to less bicycle thefts in the future.
【Factors in the improved safety and livability of Koto Ward】
Statistical data shows that the number of young families with children living in Koto Ward is increasing, which is probably a driving force for improving the safety and security of the area. One of the biggest factors for this increase is arguably the welfare benefits provided by the ward to child-rearing families. Besides child allowance for children up to 15 years, residents can enjoy preschool fee subsidies and medical expense subsidies for children up to 3rd year junior high school.
Furthermore, Koto Ward is implementing urban greenery projects, making it one of the greener areas in central Tokyo. This is probably another important reason for the ward's increasing attractiveness as a place to live in.
【Summary】
Koto Ward is conveniently located and has a good living environment, with relatively reasonable housing costs. In recent years, it has also been experiencing a boom in apartment building construction. And with the ward set to hold various events during the Tokyo Olympics, it is increasingly becoming a popular residential location.
On the other hand, being a waterfront city partly built on reclaimed land situated at or below sea level has its drawbacks, namely the susceptibility to natural disasters. A large earthquake occurring in the area will probably cause land prices to plummet, something to keep in mind if you choose to reside here.