【Itabashi Ward Safety Information】Safety in the 23 Wards of Tokyo
2018-12-13
Town & Local Area Info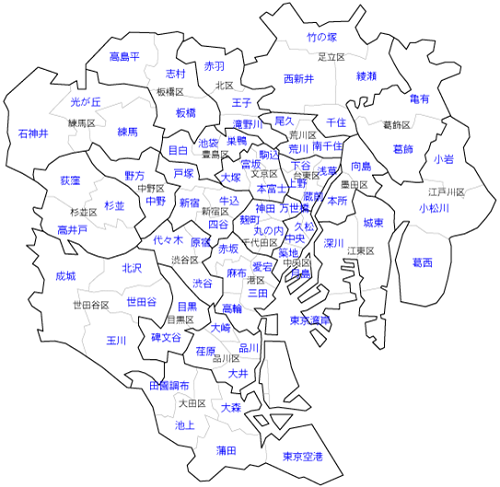 We'd like to provide information regarding safety in Itabashi Ward.
Please read this basic information.
【Itabashi Ward Basic Information】
■Population: 543,076
■Area: 32.17 k²
■Crime rate (area × population × number of cases): 0.88%
■Type of crime
· Bicycle theft (1926 cases)
· Burglaries (208 cases)
· Violent crime (170 cases)
【Tokyo's Commuter Town: Itabashi Ward】
Among the 23 wards, rent is relatively cheap in Itabashi Ward. This is an area where small factories and shopping streets are lined up along the Arakawa river and the housing is for normal working people.
This area is near the terminal station, Ikebukuro, and the closer you get to Ikebukuro, the higher the rents become.
【Safety and Initiatives for Improvement】
Itabashi Ward does not have a very high crime rate among the 23 wards.
Environmental improvements are not carried out as well as in other districts however, for example, there is no preventative measures for abandoned bicycles and littering. Although patrol cars roam around with their flashing lights, they are not very active in keeping public order.
One gets the impression that the ward is slow to implement initiatives for public order, as there is no installation of security cameras by municipalities, nor subsidies for housing equipment for crime prevention (lock picking countermeasures), etc.
Although the number of recognized crimes is decreasing, this rate of decrease is slower than in the other Wards.
【Itabashi Ward, The Rental Market Value and Popularity】
Popular area #1: Toubunerima Station (Tobu Tojo Line)
The AEON Itabashi shopping center and a variety of restaurants are located near this station.
With many elementary, junior, and high schools, this area is especially popular with families that want long term residences.
Also, just in case you miss the last train, Toubunerima Station has mid-night bus services, so there is no need to rush.
For a one-room apartment, the rental market value is about 66,900 yen, on the high side for Itabashi Ward.
Popular area #2: Kotakemukaihara Station (Tokyo Metro Fukutoshin Line, Yurakucho Line, and Seibu Yurakucho Line)
Access to the city is also good here, as the express train of the Fukutoshin Line stops in terminal stations such as Ikebukuro, Shinjuku, and Shibuya.
In the neighborhood, there are discount supermarkets such as "OK Store" and "My Basket", which is open until midnight, making this area popular for single people.
Monthly rent for a one-room apartment is 66,600 yen, somewhat high for Itabashi Ward.
Popular area #3: Shimurasanchoume Station (Toei Mita Line)
With a large shopping mall "Seven Town Azusawa" near the station, and a large park, "Azusawa Park", this is a well-established area.
This comfortable area is popular with both single people and families.
Nearby there is Shimurasakaue Station and Hasune Station etc., also a few minutes away by bus (30 minutes on foot) is the Saikyo Line, Kitaakabane Station.
Monthly rent for a one-room apartment is 57,300 Yen, relatively inexpensive for Itabashi Ward.
【To Sum Up】
Among the 23 wards, Itabashi Ward is relatively large, one cannot describe it with just one word, as it varies so much station to station.
Taking in account conveniences such as commuting, school, and safety, let's find an apartment that suits you.