【Safety information about Setagaya Ward】Safety information about Tokyo 23 Wards
2018-12-13
Town & Local Area Info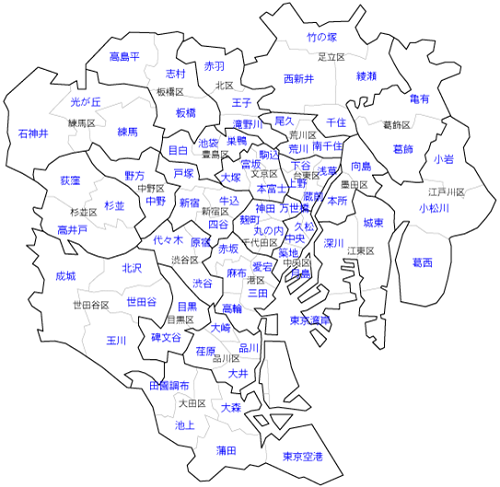 We would like to provide you with the safety information of Setagaya Ward, starting with the following basic information.
【Basic information about Setagaya Ward】
■ Population: 890,900
■ Area: 58.08k ㎡
■ Crime rate (Area × Population × Number of cases): 0.68%
■ Criminal form
· Bicycle theft (2438 cases)
· Burglary of a residence (378 cases)
· Stealing valuables from an unattended car (150)
【Setagaya: the strong image of the high-class residential area】
With the largest population in the 23 wards of Tokyo, it is no exaggeration to say that Setagaya Ward alone is bigger than some prefectures or more.
Setagaya is commonly known for the high-class residential areas such as "Seijo" and "Fukasawa". However, there are "Sangenjaya" and "Shimokitazawa", which are popular for young people with many places for eating and drinking.
【Safety situation and efforts for improvement】
Unfortunately, Setagaya is ranked as the ward with the highest number of criminal offence. It is considered that many residential areas with less crowded streets and the image that it is where the high incomes live are contributing factors.
These crimes are unique to residential areas including "bicycle theft" (40%), followed by "burglary of a residence" (6%) and "stealing valuables from an unattended car", which are characterized as the ones that steal the eyes of people.
In order to prevent these crimes, the ward is putting an effort. In addition to ordinary patrols, there are security guards outsourced to security companies as well as blue beanie light cars operated by local volunteers patrolling for 24 hours.
In addition, security cameras are increasingly installed on the streets and the ward provides subsidies for crime prevention of the local shopping communities as well as for the maintenance of security cameras at preschools.
Moreover, considerable attentions are given to child safety. These include "distribution of safety buzzers", "emergency communication network", "support children 110 activity", "implementation of risk avoidance program", "tear drop spray deployment", "half day deployment of security guards", "patrol security at the time of on the way to and from school", "setting of interphone" and "child safety volunteer enterprise". Furthermore, control policies for kidnapping and blackmail have been carried out.
【Good transportation access, but also points to be aware of】
Setagaya covers a large area, and the access to railway depends on where you live. Generally, you can use private railway such as the Odakyu Line, Tokyu Denentoshi Line, Keio Line, Inokashira Line, which will take you to the Tokyo city center in 10 to 30 minutes. It has the easy access to Shibuya and Shinjuku.
On the other hand, it is inconvenient to access the east side of the Yamanote Line. Also you have to transit at least once when you use railways that are not directly linked to the Tokyo city center by the subway.
In addition, be aware that because Setagaya Ward contains a large area, there are many blank areas where there is no nearest station within a 15 minute walking distance.
【Summary】
Setagaya Ward is a convenient and popular area to live and each area of Setagaya has different atmosphere.
Although it is safe to live in Setagaya Ward, since there are so-called high-class residential areas, it is necessary to live in an apartment with the good security.
The transportation access is good. Especially Shibuya is very close, so it is a very convenient area for those who work or study in the Shibuya area.