Tale of the Town: Monzen-Nakacho (Koto Ward, Monzen-Nakacho Area Info)
2018-12-13
Town & Local Area Info
In this article, we would like to tell you about the story of Monzen-nakacho, an area with an old town atmosphere that is full of hidden charm.
【Access】
Chances are that the name Monzen-nakacho doesn't immediately ring a bell for many people. Monzen-nakacho is located in Tokyo's Koto Ward, and the Monzen-nakacho Station is served by the Tozai and the Toei Oedo subway lines. From this station, you can go to the popular Roppongi and Iidabashi districts directly by subway without any transfers. Otemachi is also a mere 5 minutes away, and Shinjuku can be reached within a half hour train ride. Besides its ease of access, the area also has a laid-back atmosphere, making it a comfortable place to live in.
【History】
Historically, Monzen-nakacho served as a "monzenmachi" (a town built around a temple) for the Eidaiji Temple which was attached to the famous Tomioka Hachiman Shrine in the neighboring Tomioka district. Since then, it has become one of the most important areas in Tokyo's Fukagawa quarter, with a bustling commercial area, a main street, a subway station, and a bus station.
Monzen-nakacho is the birthplace of Takizawa Bakin, a prominent writer during the Edo Period, as well as Ozu Yasujiro, a film director active during the Showa Era.
【Around the Station】
The vicinity of Monzen-nakacho Station is a busy area with plenty of buildings and pedestrians, but many of them are elderly residents, which add to the town's laid-back, relaxed atmosphere. A short walk from the station will take you to an old-style shopping arcade with various shops including traditional green grocers and clothing stores. It is also not far away from nature spots such as the Sumida River and the Fukagawa Park where many children come to play. With so many places of interest around, Monzen-nakacho is a good place to spend a relaxing weekend just walking around the neighborhood.
【For People Who Live Alone】
Around the station, there are plenty of convenience stores and restaurants available, so you won't have to worry about getting a late dinner after a long, tiring day at work. There is also an Akafudado discount supermarket nearby (interestingly, this is the flagship store of the Akafudado supermarket chain).
Antique fairs and flea markets are frequently held around the town. In addition to food stalls that sell local favorites such as baby castella cakes and candied fruits, you can also find plenty of shops that sell daily goods and other items for a bargain. You can have a fun time just walking around the neighborhood looking at the wares on sale.
【Recommended Spots】
○Tomioka Hachiman Shrine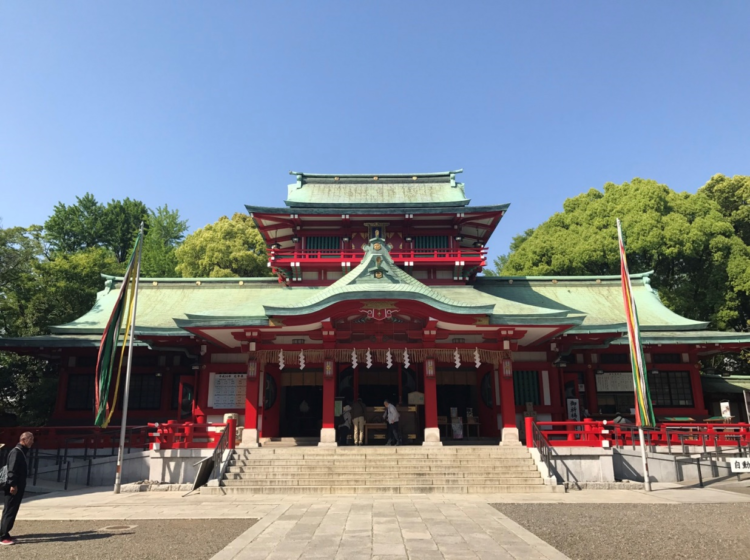 http://www.tomiokahachimangu.or.jp/
Originally built in 1627, the current main shrine was last reconstructed in 1956. Inside the shrine grounds, there is a statue of Ino Tadataka, a famous Edo Period surveyor who made the first complete map of Japan. He was known to pray at the Tomioka Hachiman Shrine before setting off on every journey to survey the land.
Tomioka Hachiman Shrine holds many festivals and antique fairs throughout the year. It also houses the largest mikoshi (portable shrine) in Japan, as well as many other interesting attractions. It's best to just visit and take a look for yourself.
○Fukagawa Winery
Located just 5 minutes on foot from Monzen-nakacho Station, Fukagawa Winery was established as a winery that anyone can visit, which is why it was built in the Fukagawa old town district of Tokyo. Here you can learn about their winemaking process, and even enjoy a taste of their wines taken straight from the cellar.
One restaurant where you can enjoy the wine of Fukagawa Winery is Kyugoro Wine Table located in Kiyosumi-Shirakawa, not too far away from Monzen-nakacho.
○MONZ CAFE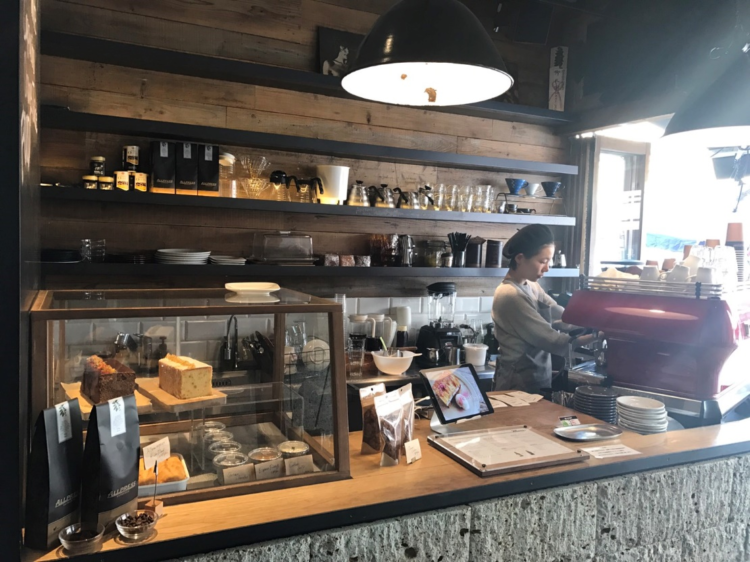 https://tabelog.com/tokyo/A1313/A131303/13161831/
While you might think that Monzen-nakacho is full of shops and restaurants with a nostalgic, old-town atmosphere, you'll be surprised when you enter MONZ CAFE. This stylish café is located along the Goriyaku-dori street going towards the Fudodo Temple. You can enjoy a drink in the café's modern interior, or go al fresco and sit outside on a refreshing sunny day. On my visit, I ordered a caffe latte, but most of the other patrons also ordered some fabulous-looking sweets to go with their drinks.
○Spicy Bistro Taprobane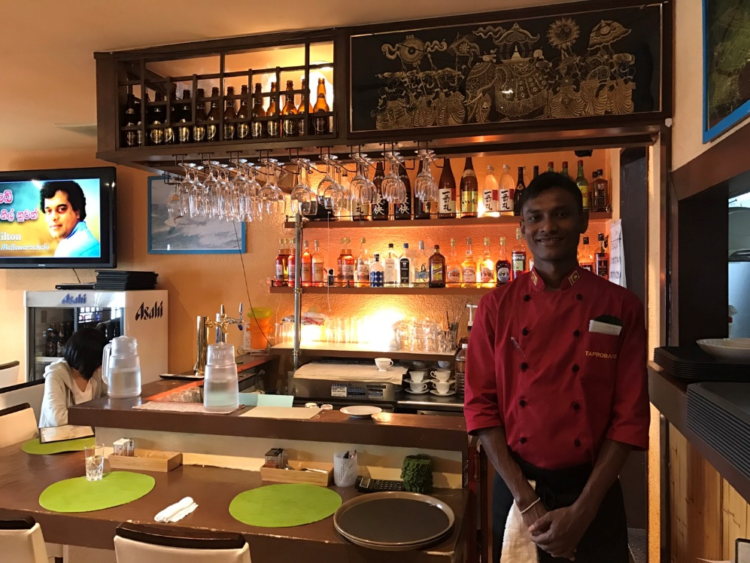 https://tabelog.com/tokyo/A1313/A131303/13191178/
This Sri Lankan restaurant is operated by a Sri Lankan national, and he says that this place is the closest you'll get to Sri Lanka without leaving Japan. As you go up the stairs from the entrance, you'll be greeted by the restaurant staff with a friendly smile.
I ordered the One Plate dish which features two types of curry and other side dishes served around rice on a single plate. The Sri Lankan way to eat it is to mix each side dish separately with the rice to enjoy the flavors individually. All in all, it was a very delicious dish, spicy but not too hot.
【From the Writer's Des】
As I walked around Monzen-nakacho to gather information for this Tale of the Town article, I realized that within the area's old town atmosphere is an abundance of nature. Despite its many food establishments and proximity to central Tokyo, it has a laid-back feel that makes it a good place to reside in or visit for fun.